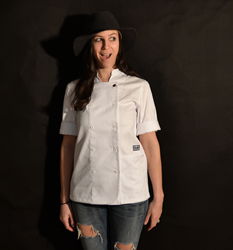 Six months ago Tilit Chef Goods, a New York-based, USA-made chef wear company that designs aprons, chef pants, skinny chef pants, work-shirts and more, began the #ChefCoatProject.
The #ChefCoatProject was a multi-step plan to crowd source the design for a new chef jacket from professional chefs across the USA and Canada. The project began with a survey of design attributes including fit, style, pockets, materials and colours, as well as pricing and whether chefs, sous chefs and cooks preferred to order for their restaurants or personally.
The survey brought in hundreds of responses from chefs and paved the way for Alex McCrery, founder of Tilit, to then create three unique designs based on popular opinion.
The three designs were voted on through Tilit's social media channels and website, tilitchefgoods.com. Participants have been rewarded for sharing the news of the #ChefCoatProject by being included in raffles giving away free T-shirts, gift cards and finally five free chef jackets.
The winning design has been shared with the chef community online and personally by Alex visiting restaurants in Manhattan and Brooklyn.
The chef coat has been created in both men's and women's fits with details like performance apparel side panels, apron strap tab, pit vents, a chambray lined collar, easy roll sleeves, split longer back, hip pocket and a sharpie arm pocket.
The coats will go on sale at tilitchefgoods.com today, Friday April 4th.