A couple of years ago, Expedia Group published an insightful report showing how the path to purchase with online travel varied in Canada, the U.S. and the United Kingdom. Fast-forward to 2023 with mobile and internet usage through the roof, changing behaviors post-COVID and the emerging phenomenon of generative AI… and we find travelers consuming content on various platforms quite distinctively around the globe!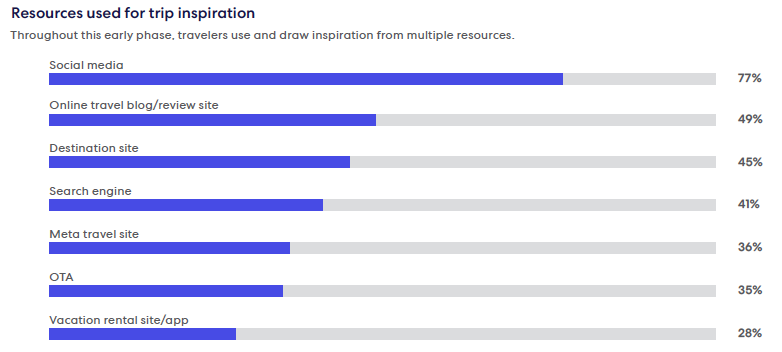 A few days ago Expedia Group unveiled its most recent Path to Purchase research, highlighting the travel content consumption habits of travellers as they seek inspiration and plan their trip, spending 303 minutes or over 5 hours on average with travel content in the 45 days prior to booking. The report surveyed travelers in 7 countries: Canada, U.S., Mexico, France, UK, Australia and Japan.
Canadians: think longer, closer to departure date
In Canada, travellers spend more than one month thinking about their trip (four days longer than the average) and nearly 40 days planning. Canadian travellers' booking occurs over two months prior to going on their trip, four days shorter than the average.
The research also reveals that most Canadian travellers (62%) do not have a particular destination in mind or are considering multiple destinations prior to choosing where to go, highlighting the opportunity for destination inspiration in the planning and research phase. This also signals clearly the importance for storytelling and advertising in the upper funnel stages of the decision-making process for travel and hospitality experiences!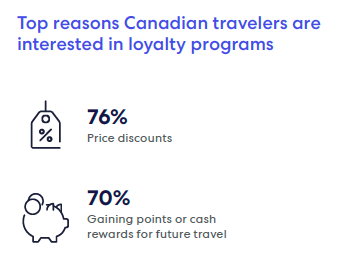 Canadians, more loyal?
What I found particularly interesting relates to loyalty program. 58% of Canadian travelers are members of a loyalty program, compared to only 28% in France. More importantly, 78% of these Canadian travelers feel it's important to book with a brand where they are a loyalty member. In fact, 50% said they would pay more to book with a brand where they are a loyalty member!
Travel content consumption
In the chart shown earlier in this article (see above), the research found that social media played a pivotal role in the earliest stages of the travel decision-making process, when "inspiration" is sparked. Review sites, destination sites and search engines followed in importance.
However, as we can see with this chart, as travelers move along their online path to purchase and enter the "planning" phase, online travel agencies become key players, along with search engine and, to a lesser extent, social media.
The key takeaway here is that not all platforms are used in the same way, depending on where travelers are in their path to purchase. Loyalty programs matter, as does advertising and storytelling with performing organic posts. But it's important to know who you are targeting, and with what kind of message, i.e. inspiration vs promotion.
The billboard effect
Also interesting is the fact that there still seems to be a billboard effect in play when it comes to OTAs.

In other words, online travel agencies such as Expedia, Booking or even meta sites like Kayak or Trivago will often lead consumers to further research directly on suppliers' websites: airlines, hotels, car rental, etc. So here again, the takeaway is clear: it's important to make sure you put on your best face on OTA sites (with text and images), not just on your own website!
To download the free report from Expedia Group, click here.