When was the last time you shook someone's hand, went to a festival, had a complete week of school or work without telecommuting? 2020 was a peculiar year: our social bonds and habits have been profoundly impacted by COVID-19. Social distancing is now the norm and this poses a problem for a lot of industries. How to continue doing what we were doing, without putting ourselves and others in danger?
The market of service robot technologies and telepresence solutions is expected to grow continuously in the next ten years. By 2025, 85% of customer interactions will take place without a human agent.
Here is an overview of the different ways robots are being used during the pandemic.
In hospitals
In hospitals, handling COVID-19 can be difficult. People who are positive to the virus need to receive treatments, but it is not always easy for health care assistants to do so without putting themselves in danger. A safe alternative is to use robots. In this case, robots are used to disinfect the air and surfaces, to answer patients' questions, to bring them medicine or food, and to monitor them.
The Poloclinico Abano chain of hospitals, in Italy, has been using UVD Robots to disinfect patients' rooms. The robot is capable of moving autonomously in the hospital, using ultraviolet-C light to kill the virus.
Pal Robotics have also developed robots that can be used during the pandemic. The robot "Ari" can be used to make sure patients take their treatments, and is also able to interact with the patients so they don't feel too impacted by the lack of social stimulation.
The TIAGo base robot can be used in two different ways. First, it can be transformed into a TIAGo delivery robot, which delivers food and medicine to patients with COVID-19. Secondly, it can be used to as an Autonomous Disinfection Robot, or ADR, disinfecting rooms with UVC light.
Another usage of the robot can be for the remote collection of patients' vital sign information. Boston Dynamics is currently working on this with their robots. They are trying to figure out a way to remotely measure body temperature, respiratory rate, pulse rate and oxygen saturation. Once again, this would allow healthcare providers not to be in contact with contagious patients while maintaining a high level of care. Checking on patients regularly without risk of infection would indeed be a game changer.
Here comes Pepper!
You've probably already seen the star robot of SoftBank Robotics. Not only is Pepper cute, but it was designed specifically to interact with humans. Pepper can be used in a lot of different industries: retail, finance, hospitality, tourism or even healthcare. In this last industry, it is no surprise that Pepper was used during the COVID-19 outbreak.
4 Peppers were lent to the university hospitals Pitié Salpêtrière in Paris. The robot is used to allow patients to stay in touch with their family. Pepper is mounted with a tablet which can display video calls. Be it during the call or before and after, Pepper can offer a positive and joyful experience to patients who are isolated. The robot is fun to interact with, and have you ever seen it dance? It's impossible to not to smile! Lastly, Pepper allows the caring staff to have less physical contact with patients, which is fundamental during this pandemic.

Source picture: SoftBank Robotics
We've become accustomed to the precautions we have to take to prevent the spread of the virus. We wash our hands more regularly, disinfect them, we wear a mask, we keep our distances and stay at home when possible. However, we're humans, and sometimes prone to error and forgetfulness. Fear not! Pepper is there to remind you what to do. Indeed, Pepper can be used in hotels, live events, supermarkets and airports to ensure that people are protecting themselves and others. What's more, Pepper can detect whether someone is wearing a mask or not, reminding them that the mask is compulsory.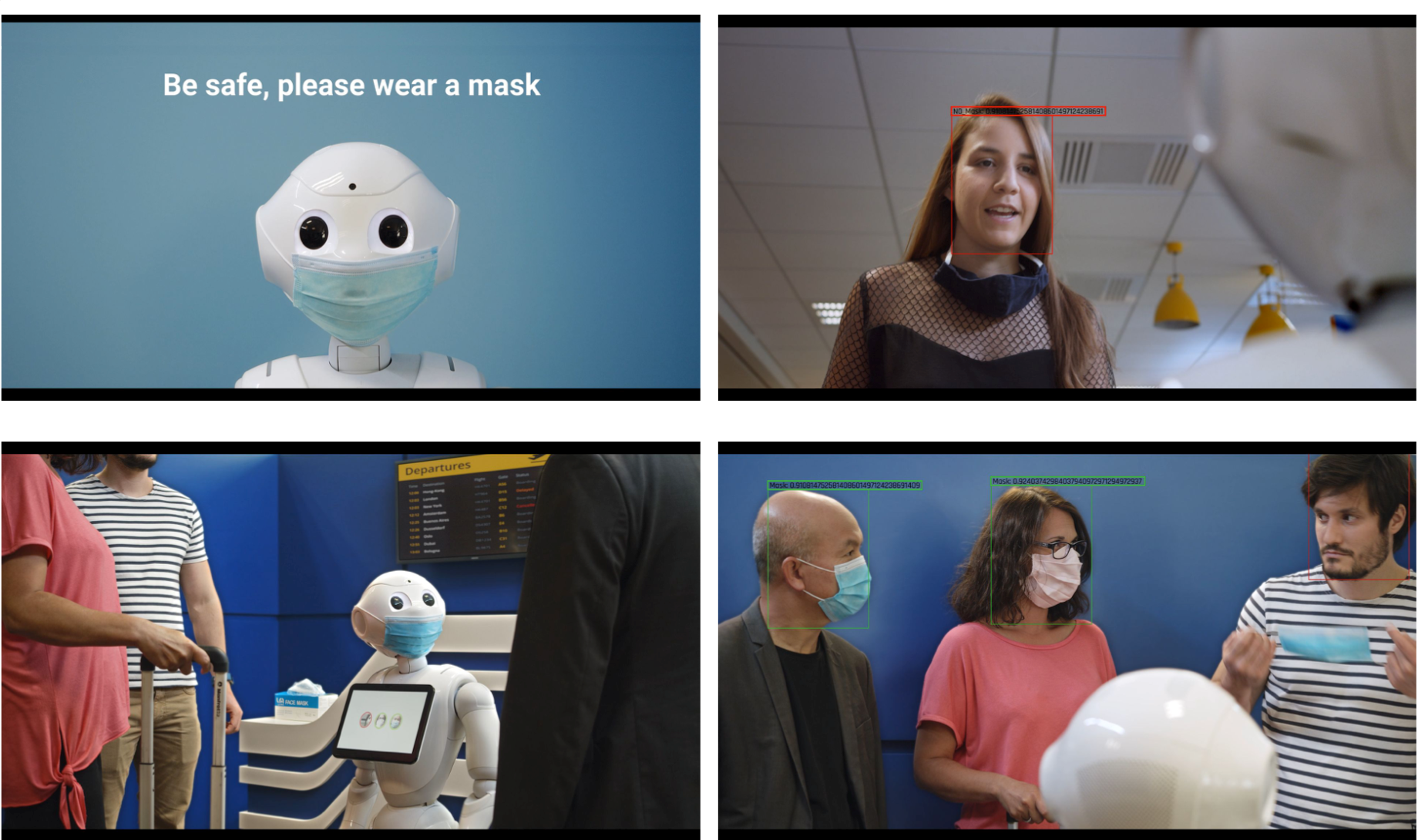 Source picture: SoftBank Robotics
Concerns
The increasing use of robots will give rise to several ethical concerns such as trust in the system or data protection in the interaction with the robot. Below is list of concerns:
Autonomy: To what extent can a robot make decisions without human control?
Replacement and its implications for labor: Are robots being used to save money by replacing humans?
Trust and safety: Can the robot be "trusted"? How can a robot guarantee the safety of the users interacting with it?
Privacy and data protection: Which data are collected? How are they stored? Who has access to them?
Social presence – Degree of "humanization": How can a "social" connection be made with a robot?
Responsibility: If the robot takes over human tasks, who is ultimately responsible for these tasks?
Conclusion
The development of the next generation of service robot technologies will have a significant impact on the productivity of firms, on jobs and on the customer experience. Consequently, the question of robot intervention is to be an important topic for our society. This huge revolution should be accompanied by an in-depth understanding of the situation that incorporates the points of view of all stakeholders. It is still a work in progress.