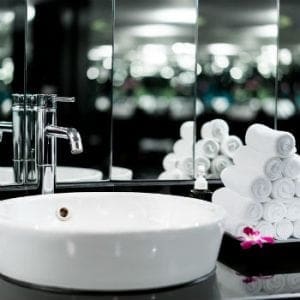 As a result of world economies booming in recent years and the popularization of global travel, the hospitality industry has experienced an amazing growth. People around the world are embarking on journeys of exploration eager to see and learn about their own country as well as foreign cultures.
With such a rise in the travel industry, the hospitality market is witnessing new competitors and the race has become very serious. The focus has shifted on the crucial design details that can capture the guests' attention and dissuade them from choosing the competition down the road.
The deciding factor in this power struggle is the hotel room itself and here is how you can make it truly welcoming that will make you stand out from the others.
The layout
The most important consideration in hotel room design is optimizing the layout so it appeals to your target customers. For most hotels, the demographic pool is often quite wide, ranging from families, digital nomads, newlyweds to business travellers. To be able to cater to everyone's taste, the best path to choose is to create a different design scheme for different rooms.
One of the essential steps you need to take is to optimize the room layout. As a general rule of thumb, the room should be practical, functional, allow freedom of movement and offer such aesthetics that can tie in the whole look, rather than have each area sectioned off. There should be a smooth transition from the foyer into the living area and an unobtrusive distinction from the bedrooms.
The bathroom luxury
For most guests, the deciding factor that pulls in favour of one room over another is the bathroom design. The one with the stunning design will always prevail, even if the room price exceeds the competitor's. An elegant, luxurious and well-designed contemporary bathroom is something that any customer will gladly pay more.
Your only concern, design-wise, is to ensure the bathroom décor follows the room theme. Incorporate elegant details such as a vase with flowers, scented air fresheners and lots of natural light. Adding white elements to wooden cabinets and flooring will give it an elegant touch and nothing will speak luxury more than an oversized mirror and a vintage chandelier as a central piece.
The cosiness factor
In addition to a luxurious bathroom, the room itself must feel inviting, warm, peaceful and cosy. It should offer a space where the guests can relax, unwind and enjoy their holiday free of worries of their everyday lives.
Although you can't really satisfy everyone's taste, you can use the décor to create a homey vibe. One of the most popular designers' methods lately is bringing in more fabric and texture into the room to give it warmth and appeal. For instance, the rug layering trend offers great possibilities to showcase a complex rug on top of a simpler one.  The foundation rug gives you a perfect base to play on and lets you create more depth and dimension by angling the top rug and going with a more bold colour and pattern.
Amenities and extras
All customers have specific expectations and it's up to you to do your best and provide all the necessities and luxuries they might desire, such as crisp and clean bed linens, plush blankets, fluffy pillows, soft bathrobes, big towels, comfy slippers and good quality toiletries.
Consider adding complementary sets of toothbrushes and toothpaste, shampoo, bath salts, scented candles and a blow dryer. These are the details everyone is thrilled to get in a home away from home. Going an extra mile and taking it one step further with in-room amenities distinguishes a stellar customer service from an average one.
The devil's in the details, so giving your guests a few classy extras will give you the upper hand in service quality and your guests' satisfaction. Providing a safe storage for jewellery, phones and other valuables free of charge, adjustable tables and beds, lighting, TV and music options will make your guests feel cared for and pampered. It will take their mind off of worrying about every little detail and allow them to fully enjoy their vacation.
In the overly competitive hospitality market of today, the job of a successful hotel manager is to be one step ahead of the competition in order to attract new guests. Having an inviting hotel room design is one of the first steps in accomplishing this goal.