I was recently on a trip to Aruba, in the Caribbean. I initially wanted to book a week-long leisure trip at some kind of all-inclusive beach resort but figured I might as well extend my stay and bring my computer along for some work, too. So I opted for a fully-furnished condo. Unusual? Not at all, according to many recent studies.
The rise in workations
BCD Travel's research recently found that 85% of workers in the US are looking for a mix of remote and office work in the future. This recent pandemic clearly demonstrated it is possible to work efficiently from home or wherever there is a good wifi connexion and access to business amenities. Zoom, Teams or Meet, anyone?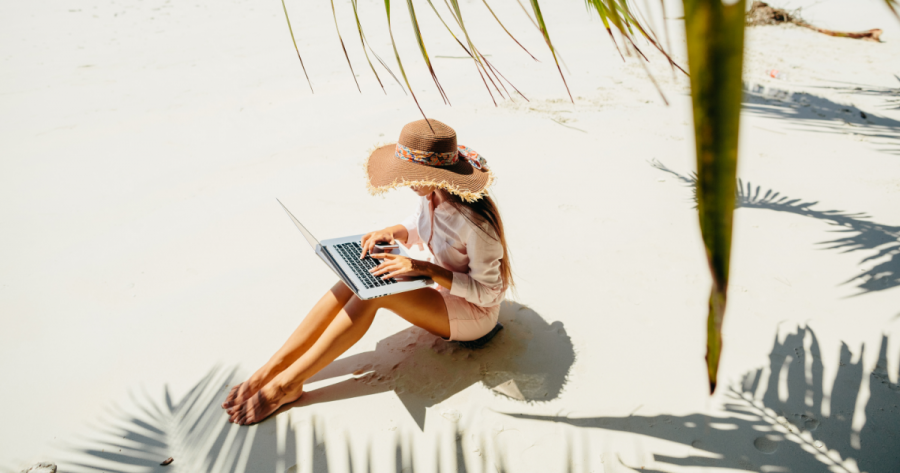 So how is that any different to bleisure, a trend we have been seeing growing in recent years?
Bleisure usually relates to a business trip to which a leisure component is added. Think of folks attending in conference in New Orleans, Paris or Bangkok, and deciding to add a couple of days to the trip in order to make the most of their trip. Perhaps bringing a spouse along.
Workations, on the other hand, usually infer leisure trips to which we decide to add a working component. In other words, I chose to go to Aruba because I knew the destination had much to offer… but also because I knew I would get quality wifi and would able to conduct webinars and Zoom calls without any technological hiccups from the condo I chose to stay at.
An opportunity for travel marketers
This of course represents both an opportunity and a challenge for various travel and hospitality stakeholders. Destinations have started appealing to digital nomads and workers flexible enough to plan shorter-stay workations during the Covid-19 pandemic. Airbnb, Vrbo and other vacation rental platforms have been highlighting amenities and connectivity usually sought after by business travelers.
In this evolving context, hotels need to start adapting their rate structures in order to appeal to this growing market segment. A weekly rate or a monthly rate should not be a daily rate multiplied by 7 or 30, but rather packaged and thought of differently altogether to address the specific needs of this segment.
A way to dodge travel irritants
Workations is also a great way to circumvent – or at least reduce – what many travelers are seeing as a potential nuisance. That is, the necessity to take all these tests (PCR, antigen) prior to arrival in many destinations. Not to mention the obligation to show proof of full vaccination, through various apps managed by the countries, the airlines, the local or provincial destinations and so on. All of which make for more strenuous border crossing experiences, specially if one travels with kids and a smartphone with low battery problems…
In other words, we may travel less, however ensure we make every stay longer in duration in order to make it worthwhile for these perceived irritants to seem less cumbersome.
Workations in 2022
The folks at Passport-Photo.Online surveyed 1,000+ Americans in December 2021. They surveyed these travelers who had recently come back from a workation, to get a better perspective on their motivations, needs and wants. Below is an interesting infographic that summarizes some of their findings.
Some of the key takeaways from this study:
Most Americans (67%) went on workation to "recharge their mental and emotional batteries."
Another 94% plan to workation again in 2022 and beyond.
A full 86% of employees agree or strongly agree a workation boosted their productivity.
81% of Americans grew more creative at work after taking a workation.
Nearly 69% are less likely to quit after going on workation.
Source: Passport-Photo.Online