Fundamentally it has been a completely different year from any other – many referring to a "new normal" – bringing a plethora of contrasts to the industry when comparing hospitality to pre-covid times. This urges the need to review what trends have come and gone, to put any concerns into perspective.
Of course, Covid-19 has scrambled things up, causing ripples in the hospitality pond just as we have seen with previous crises. Regardless of the negative effects that came into being, there are always new opportunities that arise as a result. In this article we will be covering everything from shifts in consumer behaviour and expectations to hotel concept trends, bringing you up to speed on the latest hotel developments and hospitality trends.
Accelerated need of higher customer experience
From stuffy, uninspiring hotel concepts and operating procedures to ancient hotel systems, there was always a need for improvement to see consistent high quality of services and products being offered across the board.
With the coming of Covid-19, people's needs and wants have rapidly and fundamentally shifted, creating the need for the hotel industry to reshape towards the realities of the "new normal".
Which hotel trends should we be looking out for, and what are the best ways to navigate the myriad of developments in the market? Let's break it down:
Safety as the new luxury
"Going above and beyond" is the typical phrase used in hotels in order to provide excellent service. But how does this translate into practical terms when it comes to health and safety measures? How can we meet expectations and deliver unmatched customer experience during these challenging times during Covid19?
Tips:
Implement well developed protocols making your guest feel safe and not preoccupied with thinking of their health. Steps that you can take directly include:
Be there every step of the way, outlining every step of the customer journey from when the booking is made until they arrive home safely again. For example:
Send a booking confirmation email containing all the safety measures taken at the hotel. Include any relevant information from check-in information to cleaning protocols, and even activities that guests can safely do around your hotel.
Understand that any doubts on your safety standards could mean the difference between a cancellation or successful hotel stay, at any point after the booking has been confirmed.
Create an elevated experience of security throughout the hotel. Go for a small scale approach in your pursuit to make guests feel secure. Build a personal connection to become part of the customer journey, introducing possibilities to make a positive impact on the customer journey without being too intrusive.
Be prepared to cater to new needs and wants of guests, whether it is organizing corona-proof events and activities, or more generally, making sure the guest experiences a perfectly safe and clean environment.
Make information clearly visible. Efforts shown by the hotel should be brought to light. The last thing you want is guests having to look for information when everything is right at hand. Do not let your efforts go to waste – make it available wherever you think guests might need it! Our tips include:
Prevent any doubts by providing as much information as possible before arrival
Utilize QR codes pointing to your protocols
Ask during the check-in if guest are interested in additional information per email (read more on guest email collection opportunities)
What fits your property type/service level? Make sure sufficient value is created in the eyes of the guest within your price range/hotel positioning. For instance, ask yourself – does a hotel qualify as "luxury" if it cannot ensure health and safety measures are equally matched to the same level of service and product expected from a property of high caliber?
Attention to detail makes the above efforts even better. Your efforts will be fruitful when you go beyond only covering the basics and go the extra mile for guests.
Cleanliness first
Clearly, people are prioritizing their health during this pandemic, and will likely continue to do so for quite some time. Recent articles such as from the New York Times claiming the most important word in the hospitality industry right now is "clean.", and a survey by Oliver Wyman that found that improved health and cleaning is a primary factor impacting the decision to stay at a specific hotel.
The meaning and association with the word clean has been turned around. To make sure what was once taken for granted (a "clean" room), you now need to step up your game in order to live up to the customer´s completely new and different definition of cleanliness (a "virus-free" room).
Tips:
Technology
Killer lamps a.k.a. disinfectant lights using UV-light to sanitize surfaces (portable light modules, robots etc.)
Communication – how to get the (right) information across
Chat services, whether automatic (chatbots) or not (instant messaging with staff such as Whatsapp) allow for more swift and accurate ways to communicate information to guests.
Hotel app – all protocols and initiatives should be listed. Referring to the app´s readily available information primes guests to make use of the app before reaching for an alternative such as calling to the reception.
Marketing message – make sure to include the initiatives in your marketing message.
Clearly display them on your website in various ways:

Concise short-list of your steps to tackle any concerns guest might have
Similarly, a pop-up message can be used to bring the information to guests attention
Do not overlook other departments. Promoting F&B specific measures such as food safety or convenient delivery options you might have should take away any doubts

Let your guest experience talk for itself. Be sure to include it in your marketing efforts across your hotel website, email campaigns, social media, and on OTAs. Highlight positive reviews and customer success stories about your outstanding health and safety measures.
Nothing is worse than putting in the efforts and money without the guest having the knowledge of what was actually done. Following the above examples and making sure the message is clearly visible throughout the guest journey will maximize potential results.
Personalization
Creating unique experiences has always been a major part of hospitality. However, for guests to qualify their stay as exceptional takes more than just covering the basics. Focusing specifically on their needs and wants and tailoring the provided services accordingly is where the difference can be made.
On a more fundamental level, it is evermore important not to lose the human touch to your services during these times. For both reasons, we believe personalization should always be front of mind.
Tips:
In-room personalisation features
Selection of pillows and blankets, lighting color/intensity, choice of food and beverages available, curation of guest activities
Personal turndown gift/note
Personalization of communication. Ask upon check in questions like "what kind of activities they have planned" and "what they would really like to do before they head back home". This information allows you to receive detailed feedback of their interest and provide detailed suggestions to make their stay truly special. This can be included on many places including:
Hotel app: activities and packages bookable through the app streamlines the experience and allows for automatically created content suggestions based on previous choices.
Complementary tablet/smartphone during the stay: make an individually curated selection of activities which can be pre-downloaded onto the device and given to the guests.
Personal chat and telephone operators, keeping track of what has been asked and ordered is essential here. This input should always inserted into the system if relevant for future personalization.
Leverage your PMS and CRM systems, personalization can become complicated very quickly especially for larger properties. Managing data in this case could become impossible without the support of a good PMS and CRM system. The loss of valuable information could be devastating for any hotel.
Sustainability, bring sustainable choices to your guests. Give them options such as the frequency of towel and linen changes. Showing not only that you care about the environment but also at the same time adding an extra level of personalization and value to your service.
Get your staff on board, they are at the center of your success to elevate personalization in your hotel. Overcoming the issue of undedicated staff should not be overlooked, as it is the most-cited hurdle when it comes to harnessing the potential of personalization (74%, BCG).
Thinking of holding off on the personalization of your services during current times? First, consider how easy it is to lose customers. Most (80% of consumers, Qubit) are open to switching their choice if they find services better catering to their needs. The same applies to marketing, with 25% of consumers (Netimperative) would be more loyal to a travel brand that shows an understanding of their needs through marketing, avoiding what they feel are irrelevant offers such specific periods/seasons they would never travel in, or types of vacations they would never book.
In short, switch into a higher gear when it comes to personalization and start asking yourself what can be done to take your services to the next level, otherwise it might be too late!
Tech-savvy/Smart hotels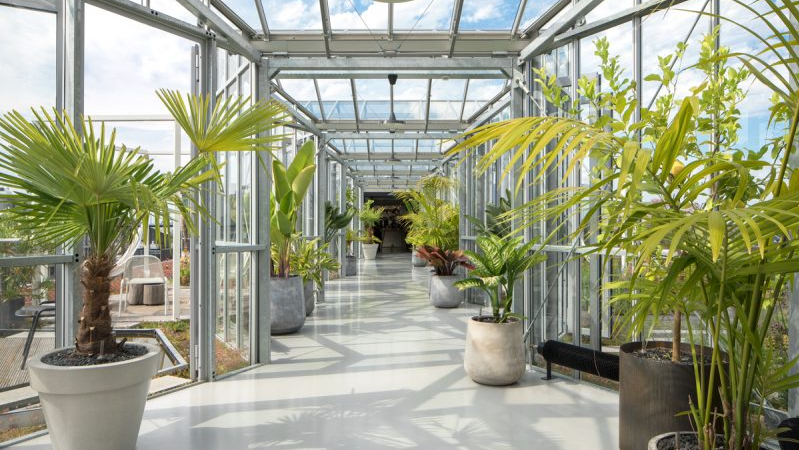 The world is becoming more involved in technology, and will have to follow suit to provide to the needs of the already tech-savvy guests. In current times, technology in the hotel industry aids both the customer experience and, importantly, the need of a safe and clean setting. A great example is stepping into a fully contactless hotel, which seems like a simple feature to offer, but goes a long way in making the guest feel secure and comfortable.
Tips:
Try finding what tech suits your brand best if you want to go big. More specifically, in case of luxury properties, you want to make sure human touch points are kept, allowing the elevated guest experience expected in such properties to take place. On the opposite end are hotels and hostels characterized by simplicity and streamlined operational processes. Here, tech is THE facilitator for exactly what is nowadays expected by this target group. Chiefly, things such as mobile check in/out, an integrated hotel app, all in a contactless environment, are the essentials to elevate your customer experience, which is likely to become the standard in the industry sooner rather than later.
Health, exercise & wellness stays
People find sports as a way to unwind and improve quality of life, with recommendations pointing to exercise at least 30 to 40 minutes a day. Also, many feel the need to relax and are willing to spend, with estimates going from a $639 billion market, to $919.4 billion by the end of 2020 (Global Wellness Institute).
Offering unique ways for people to stay active and healthy, such as yoga in the swimming pool in the image above, can really make you stand out from the crowd. Especially offering extended services such as exercise and nutrition plans can make you go the extra mile in personalization creating a personal bond and making the guest feel extra special.
Tips:
Willing to invest in healthy activities or wellness facilities? Start building your strategy first, researching your competitors thoroughly to come up with ways to stand out. Keep in mind that this does not necessarily have to translate into large amounts of time and money to broaden your service offerings. Below are listed a few initiates fit for any hotel wanting to expand on their health and wellness services.
Follow the latest hotel trends and spa tech. Consider if it fits your brand first, and if it truly adds value. Not every initiative is for every hotel.
Look into partnerships with well-established spa product providers to create additional value. Possible, even leveraging their marketing power to your benefit. Be picky though – make sure the brand fits the image you want to portray (e.g. luxury hotels should only partner with top-level brands known for their exceptional quality).
Be vocal on social media even if you implement simple initiatives. The activities make up for great content, so be sure to take advantage of it.
Externalise– fitness and other activities such as yoga, tai chi, and meditation can all be outsourced with minimal costs involved. The activities do not even have to take place within the walls of your property.
A final tip to consider is how well any of the above offerings fit your brand, and where the line between cost and value-add ends. Although resources might be available, sometimes going for smaller implementations can pay off big time and your valuable time and resources can be better spent on other initiatives.
Reconnecting with Mother Nature in luxury
Beautifully located in nature emerges guests in the natural setting, allowing guests to be one with nature. Curating special experiences fully embracing local culture and unique features of the hotel's surroundings forms the go-to approach. To qualify as "luxury", services should focus on tailoring the experience to the guests individual needs and wants, and deliver an experience unlike something they have ever seen before.
Some inspiration from Nihi Sumba involves hikes into local villages, bird watching in the midst of the jungle, or a guided tour to hidden lakes combining a swim with a delightful personalized lunch.
Tips:
Unfortunately, not any hotel can just copy paste these views onto their backdrop. However, activities can be offered in the same way to fully experience what the destination has to offer. Whether it is cultural experiences or natural attractions around your hotel, try showing the beauty of what is out there. It can widely broaden your offerings and attract guests that are in the market for something special.
Extra Tip: build a wide range of packages special to your area, and put the effort by tailoring the service to each guest for a personal twist. And do not forget to include what your destination has to offer on your hotel blog to entice people to book and capture traffic on popular keywords.
Experiences & building personal connections
Despite the implications Covid-19 has on social interactions and activities, people are still looking to experience new things. Those willing to go out there might still be craving the personal attention and special care that hospitality is known for. Taking back that personal connection and interaction in current times could be more important than ever before. Things like offering complimentary tapas and drinks just like provided at Casa Vaganto, Barcelona can be just that occasion where you can truly take advantage of a moment to connect with guests.
Tip:
Invest in small scale moments to create memorable guest experiences. The guest's experience will overreach anything tangible that can be produced (Cornell).
Increase your chances to rectify negative experiences. Tackling any issues personally before check out will prevent negative sentiment in many cases, subsequently protecting your review score..
Do not set any boundaries to time. The setting should be unforced with ample time for any guest to make use of the service.
Bringing vacation rental to the next level: Design and unique local experiences
Design
If we are honest, the vacation rental business has proved to be a laggard in the hospitality industry when it comes to concept design, missing the consistency and product quality we find in hotels. But why? Especially considering the fact that the product makes up for a much larger part of the overall experience in comparison to hotels, where service is typically more central.
So why not stand out from the crowd in a largely aesthetically indifferent pool of rentals out there? A great example of concept development is Kabano Rentals, a brainchild of Vojo Ventures, shown in the above image. Distancing itself from the herd with its own character, custom design, premium finishings, and curated local experiences. Let's go through some design inspiration taken from Kabano that can make you stand out:
Premium furnishing, designed and equipped to the highest standards

Unique furniture, handcrafted in Bali, Indonesia
Premium linen, giving that extra comfort and luxury feeling
Individually designed spaces, with a little design twist to each room

Functionality front of mind, considering functionality across every possible touchpoint throughout the property (e.g. specially allocated area in the private parking made to get changed in comfort after a day of skiing, outfitted with a washing basin, ski equipment and clothing storage/drying rack, and sitting area). In case of Kabano, which is right in front of the ski pistes, the services are catered towards the specific needs of customers booking in that area. Look for similar ways to implement features to make guests feel comfortable.
Seamless experiences, contactless check in/out and availability of information (concierge and tablet providing everything you need)
Local & unique experiences
The majority of travellers find local experiences important, with only 3%: finding it not important at all (85%). Shifting focus to highlighting local experiences at your property is therefore essential to attract guests to your property.
Tips:
We suggest you dive deeper into the following actions:
Generate as many ideas as you can to promote to your audience

Local food: cooking classes, food packages (e.g. fonduing with local cheeses in the chalet), local drink tastings

Creating the VIP experience, taking all the effort out of travelling (everything is pre-arranged). Think of:

Suggest a full plan of activities ranging from ski rental and restaurants bookings, to transportation to all the locations.
Take the opportunity to curate it to the guest´s preferences – personalize it
Go the extra mile when it comes to special experiences. Do not fall into the same category as everyone else with generic offerings that will not impress anybody.

Promote your activities, posting it in on your social media and hotel blog page
Inform the guest as much beforehand, and get them excited about all the possibilities. It allows you to start earlier with planning and gives guests more time to decide on their choices.

Watch out: most guest book experiences on spot so be prepared. Starting with introducing options as early as possible might help you to bring this number down.

Revenue opportunity: build on your online strategy. Only 20% of experiences available are bookable online!
Consumer hospitality trends
Local Travel
Despite a dip from March until June for obvious reasons, we have seen an increase in traffic for local searches being performed.
Shift in Destinations
Popular destinations seem to have shifted as well. According to a recent Booking.com article, six of the top 10 had never been in the top 10 before (globally), such as the Baltic Sea and Rügen region in Germany.
Previously, lists of popular destinations shown on OTAs and hotel chain websites would typically consist of various trending cities spread across multiple countries. Today, however, showing local destinations, within driving distance, would make more sense.
Challenges for hotels that arise from this include lower visibility of your otherwise "popular" destination, resulting in less impressions and clicks.
Tips:
In practical terms, this means that we should be on top of local search trends by focusing on regional opportunities. Think of:
What the "new" consumers might be searching for when discovering different destinations beyond major cities and large tourist destinations. Possibly, these guests are completely unfamiliar with the city/destination itself, and this is where you can stand out and gain direct traffic. Think of:

Blogging: target local activities and the unique characteristics of your surroundings.
Social media: has always been a great tool to display your hotel to a wide audience. Similarly to blogging, make sure to inform your audience about the possibilities at both your hotel as well as the city/region as much as possible to draw them in. This also allows you to curate content from different sources to expand your content strategy.
In other words, if the traffic is there you must be strategizing to capture as much of it as you can! We cover this more in our article about revenue management in a crisis or economic downturn.
Changing booking trends
Since Covid-19 started to show its impact on the hospitality industry, we have seen significant changes in consumer behaviour. Uncertainty being the main driver of how guests are searching and deciding on their travel plans. With travel restrictions in place, people are looking for safer ways to travel leading them to book closer to home, avoiding the risk of moving through high traffic areas. Another implication of uncertainty is the delayed moment of booking, meaning a shorter booking window.
Tips:
In the same way the situation keeps changing, we can anticipate that booking behaviour will follow along. Our recommendation is to keep an eye on your data and take actions accordingly. Be sure to follow any changes in your on the books data, utilizing metrics provided by OTAs and by talking with your direct competition for additional insights. We advise to take the following action:
Build marketing campaigns according to the characteristics of the target segment. Furthermore, metrics such as lead time and feeder market can give you insight into when campaigns could be launched to maximize effectiveness.
Promotions and packages, both will help you to tackle low demand and target price sensitive customers. Aim not only to offer cheap deals, but also create value at the same time when prices are bottoming out. Add value without increasing the overall price too much can simply be achieved by including add-ons at cost-price. Whether it is a free dinner, breakfast or a welcome package, anything can help to sell rooms as long as the price is right for the customer.
Transformation of corporate and group travel
This one might pose the obvious, since people are shying away from leisure travel let alone taking a trip for work…
As some companies choose teleworking- and communication instead of putting their employees at risk by making them travel for business, it is a logical outcome that corporate travel is impacted negatively.
Tip:
Put your sales hat on and focus to maximize business from local markets as well as driving ancillary revenue. Making up for the loss of revenue otherwise coming from your corporate segment will not be easy, but the multitude of opportunities must give you the chance to diversify your revenue streams. Our tips include using your current customer database for retargeting, building marketing campaigns hyper-focused on the benefits of travelling locally, and introducing new packages and services catering specifically to the needs of consumers in the "new normal".
Growing middle-class and emerging markets
A prime example of a country showing prospering middle class growth is, of course, China. Taking into consideration the steep incline of China's middle class over the past years (4% of China's urban population, to over 30% in 2018), which is expected to hit 75% by 2022 (McKinsey & Company), means a large number of consumer buying power that can be funneled into your hotel business with the right strategy.
From another perspective, entire regions can be expected to show strong growth figures. Take for example the African population, which is expected to account for approximately 40% of the world's population by the end of this century (UNPF, 2015; World Tourism Organization, 2010; York, 2014). We know, speaking about an entire continent typically asks for some extent of generalisation. However, we use this example on purpose, being that it's worth paying close attention to your data to possibly pick up on any trend happening in your market, hopefully a little bit earlier than your competition!
Tips:
Own your data, and be on top of any trends that might seem to appear from specific regions or countries.
Gather data from your direct channels, OTAs and anywhere else you might be able to find additional data on where travellers are coming from (i.e. municipality and regional databases).
Aging population and Millennials
Focusing on specific segments based on age group might help you gather insights on what services and products you might be able to offer to drive revenue.
Take for example the aging population trend. The population over 60 is expected to grow at the fastest pace ever, with a growth rate of 58% over the next four decades in the developed world, well surpassed by developing countries clocking in at numbers more triple the amount of what it used to be in 2009 by 2050 (Nella & Evangelos, 2016).
Tips:
Looking at the above statistics must prompt the urge to start thinking about the best ways to cater to the needs of this segment. The same applies to Millenials and other age groups, whether the numbers show such significant growth or not, there are always opportunities to drive revenue!
Also, read our article on how to get Millennials to Book at your hotel, for a detailed approach to get this consumer demographic to your hotel.
Hotel concept trends
Sustainable lifestyle and accomodation
Sustainable accommodation seems to become more popular by the day, showing 73% of global travellers intend to stay at least once in an eco-friendly or "green" accommodation when looking to book their next trip. In addition, another 70% of travellers are more likely to book an accommodation knowing it was eco-friendly, whether they were looking for a sustainable stay or not (Booking.com, 2019). Also, giving back to the community and planet is shown to be of importance, as indicated by a survey conducted by Condé Nast Traveler, that showed 58% of travellers said they choose a hotel on whether it gives back to local people and the planet.
Tips:
The road towards becoming more sustainable does not always have to be complicated. Of course, no matter how beautifully implemented with every aspect of sustainability in mind the above example is, there are other ways for hotels to positively impact the environment. Creating a concept built on a sustainable foundation does pose significant benefits if well-planned and marketed in the right way. Before taking action, make sure to consider the following first:
Market research, this should tell you whether there are options to diversify yourself, or if there is the need to follow the market which is already moving into sustainable solutions
Cost vs value calculation, depending on your budget and willingness to implement solutions, you should start discarding ideas based on your resources when it comes to time and money.
Small vs big, evaluate simple steps can be taken towards a more sustainable property. Start by partnering locally with food producers and organizations focusing on improving sustainability in your area. Together you might be able to effectively provide value to the community. Anything from serving fresh local produce to using sustainably made decoration in rooms and public areas can make a big difference. Make these items available for sale to support the local economy as well.
Involve your staff in creating sustainable solutions that are easy to implement and are supported by your team from the get go.
In summary, do not go overboard in your efforts without a proper feasibility study and commitment from your team! However, choosing not to follow the sustainable path could translate into missed opportunities and loss of revenue.
Hybrid concepts
Combining the words "Glamourous" and "Hostel" defines what has been brought to life at The Green Elephant, Maastricht (TGE). The concept brings luxury facilities, such as a full spa, to more affordable hotel types such as hostels. TGE has managed to tastefully merge more upscale amenities with the economical benefits of shared sleeping facilities, elevating the whole hostel experience to a new level.
Mixing two concepts widens the audience, still attracting guests whose limited budget prevents them from visiting "luxury" properties with upscale amenities, as well as guests with higher budgets where a bunk bed suffices as long as extensive facilities are on offer.
Do it the right way, which is neither too trendy nor overly swanky, establishing a comfortable atmosphere for every guest. Otherwise, it will just not make sense!
Merging nature and urban life
Apart from sustainable solutions, hotels can implement other ways to bring a sense of "nature" to the hotel. Using plants can give a fresh and vibrant vibe, offering the possibility to be creative with the use of plants by blending them harmoniously with the rest of the decor.
Providing a splash of green in the hotel can prove to be beneficial to the overall guest experience, as green spaces are shown to have health-promoting and stress relieving purposes in residential environments (Beyer et al., 2014). Similarly, introducing sounds of nature can provide corresponding results, promoting relaxation and wellbeing amongst guests (Cassandra et. al., 2017)
Tips:
Great results can be achieved with only little investment and smart placement of greenery. Various solutions can be found depending on the climate and your budget. The key here, again, is to make it fit your concept in order to guarantee a successful implementation. Anything could work from self-sustaining ecosystems to virtually maintenance free choice of plants (e.g. cacti and succulents), as long as it fits your style and concept.
(Long)-Stay away from home and remote working
Offering simple and effective design centered around a balance between work and life is what Zoku does exceptionally well. Creativity is what sets them apart. Take for example the seamlessly integrated section hiding the sleeping area from the living room, and for a little bit of extra fun – gymnastics rings (as shown in the room image above) installed for those craving a little workout during their stay.
Tips:
Before conducting any research into implementations, make sure you understand the fundamentals of this segment. Specifically, what are their needs and wants, and maybe even more importantly, how can you most effectively cater to those desires.
No skipping, meaning taking no shortcuts when it comes to making your entire hotel ready to accommodate the needs of this segment. Anywhere from public areas (lobby, breakfast area, cafe), and meeting areas (function spaces, breakrooms) to the rooms should be covered when it comes to offering comfort and accessibility to create a comfortable working environment.
Keep it fun, bringing a touch of playfulness to the implementation, just like Zoku does with the gymnastic rings. Also, community managers can fulfil an important role in establishing a balanced environment that fits every guest well.
Mixing historic and modern architecture
Mixing heritage sites with new and exciting architecture, such as the example above, allows for ways to repurpose old buildings and create new and inspiring concepts. Planning and execution of these kinds of projects usually can rack up a fair bit in additional costs, but will make you stand out more from the crowd and give people an extra reason to visit your property.
Tips:
Embracing the concept in a well thought through marketing strategy is vital to the success for this kind of venue. Associate other amenities such as your meeting rooms and restaurant in your marketing message to complete the package and overall experience.
To trend or not to trend
Hope you are all caught up with the latest hospitality trends and have been inspired by new ideas. Whether we are talking about small or large investments, adjusting to trends remains evermore important in current times. Adapting does not necessarily translate into resource heavy, though. By making the right decision, hotels can stay ahead of the game and remain innovative to navigate these difficult times more effectively.