The hospitality industry has always faced a unique challenge that most other industries don't have: Repeat customers are hard to come by. Studies show that around 90% of all hotel guests never return for a second stay. Some of the reasoning for this is understandable — many guests are visiting from far away, and people often like seeing new places when they travel. However, times are changing. In the post-pandemic world, many people are opting to return to familiar places that they trust. And as marketing evolves, customers are becoming more loyal to brands they like. Furthermore, recent technology is making it possible to capitalize on these trends in the form of loyalty programs. Brands that can use loyalty programs effectively to unlock the potential of repeat guests can gain a significant edge over the competition.
So what makes a successful loyalty program? Hoteliers have options when it comes to rewarding repeat customers, and finding the right program to suit your audience and brand is necessary for success. Hoteliers need to ask themselves a few questions: What type of guests are staying at your hotel? What are they looking for when they stay? Determining who your guests are and what they want will help you create the right system to reward them. Here are the most common types of hotel loyalty programs:
Point programs
Point programs are very popular and are frequently used in other industries. Every time a guest books a stay or purchases ancillary offerings, they earn points — usually based on the amount of money they spend. Points can then be redeemed for certain rewards, with more valuable rewards available for more points. Possible rewards could be complimentary stays, meals, late checkout, or room upgrades.
This type of program provides some great benefits. First of all, it's easy for the guest to understand, which is a key factor in enticing users to sign up. It's also great for hoteliers because rewards are only given after guests start spending money. More valuable rewards are only given away after a significant amount of money has been spent.
Point programs
One potential issue for point programs is that users often need to make multiple purchases before getting any benefits, which means guests who travel less frequently might not bother signing up. Tiered loyalty programs solve this issue by giving customers immediate rewards upon signing up. See an example of a hotel's tiered loyalty system below: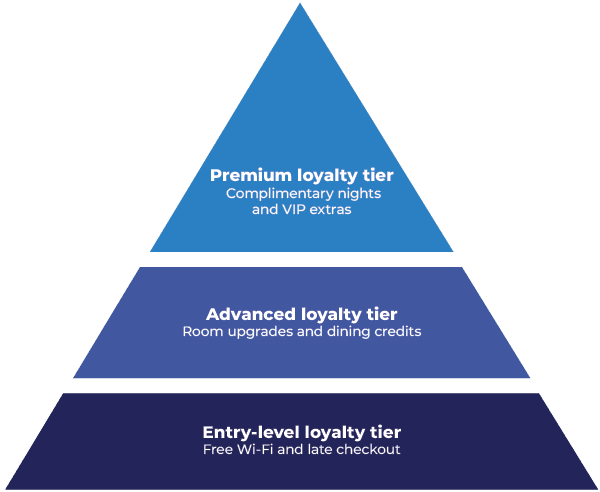 Members enjoy the bottom-tier benefits immediately at sign-up, and once they reach a certain threshold of spending, they are upgraded to the next tier. A huge benefit here is that users are encouraged to sign up even if they don't plan on making many bookings, opening up opportunities for re-marketing and CRM strategies.
Additional considerations
Even after you've chosen a framework for your loyalty program, there are still many choices to make. How do guests earn more points? Will it be strictly based on room bookings, or a combination of things like frequency and recency, referrals, or even social media mentions praising your hotel? Will you give points for food and beverage purchases or spa bookings? The answers to the questions above will depend on how quickly you want to reward repeat guests and what rewards you're able to offer. Remember that the idea is to reward your repeat customers, so don't make the perks impossible to reach. Give your repeat guests something to know they're appreciated, even if it's only their second purchase.
Focus on the fundamentals
While it may seem like there are a lot of decisions to make, the most important thing for hoteliers to do is to focus on the key fundamentals of a successful loyalty program: an easy-to-understand system, clean data to leverage, attention-grabbing rewards, and personalized experiences. As long as these elements are present, then hoteliers are free to experiment and see what works for them and their guests.
The bottom line is that loyalty members need to feel valued. These are your best customers, so they expect to be remembered, given personally tailored service, and receive special perks. Make your lower-level rewards easy to reach, and treat the loyalty portal as an opportunity to gather first-party data and maintain a strong relationship with repeat customers. The data you gather and the personalized experiences you'll be able to provide will quickly translate into bookings — easily surpassing the cost of low-level perks.
About the author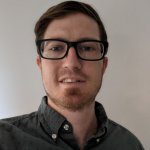 Joel Huffman, Product Owner at Cendyn, oversees the teams handling loyalty. Starting his career at Cendyn as a Data QA Specialist, Joel has an eye for detail and data. With this, Joel is responsible for maintaining Cendyn's loyalty platform for all Cendyn clients.